ABOUT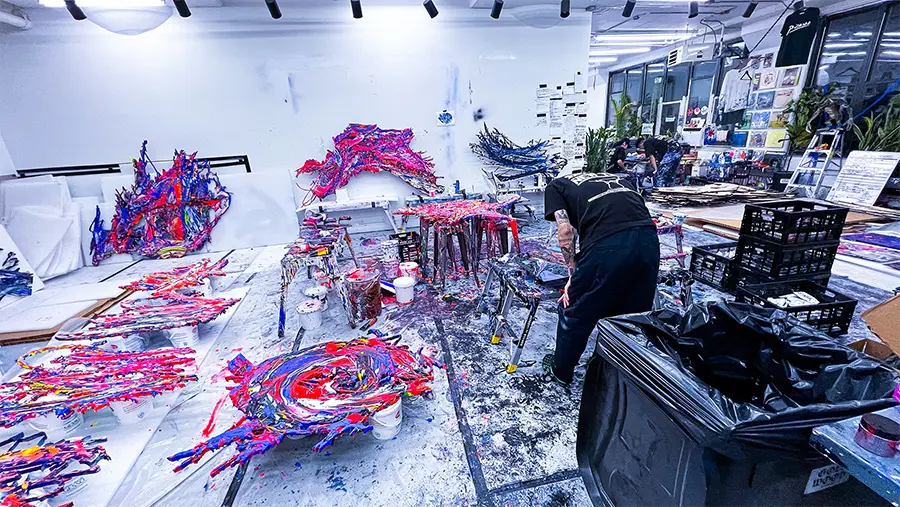 GOLDWOOD ARTWORKS
GOLDWOOD ARTWORKSは、ニューヨークと東京を拠点に活動する現代美術家山口歴を中心としたアートコレクティブ。
境界線の越境を基本理念とし、現代美術に限らず、様々なメディアやジャンル、世代を超え、誰も見たことのない究極のヴィジュアル表現を追求している。過去にトヨタ、The X Games、Uniqlo、Oakley、Billion Boys Club、HUF等とパートナーシップを提携。
現在はスタジオをNYと東京に構え、絵画制作を軸に、彫刻作品、エディション、マーチャンダイズ、スペシャルプロジェクト、限定出版物等も制作している。
GOLDWOOD ARTWORKS is an art collective lead by New York and Tokyo based artist, Meguru Yamaguchi. With a diverse range in practices stemming from street to abstract, the group represents ideas from within the subcultures surrounding the creatives.
GOLDWOOD ARTWORKS has partnered with Toyota, The X Games, Uniqlo, Oakley, Billion Boys Club, HUF, etc.
GOLDWOOD ARTWORKS also publishes limited publications, editions, merch and special projects.